Note: to add or edit a new LeveragePoint user, a user must have an Administrator, Administrator * Templates, or User Admin Only role within LeveragePoint.
When creating a new LeveragePoint user, the administrator must assign:
the user's email
first and last name
whether or not to send a welcome email
the user's role within LeveragePoint (typically Marketing, Marketing & Sales, or Sales)
the user's group
After a user has been created, the administrator can use the "Edit User" functionality to edit all the above and the following:
user password and password resets
unlocking user accounts
user visibility
user preferences
To edit an existing LeveragePoint, first go to the Administer Users page which can be found under the Administration link in the LeveragePoint header.

This will bring you to the Administrer Users page. Here's you'll see a list of all users in your LeveragePoint configuration. To edit an existing user, select "Edit User" next to user you would like to edit.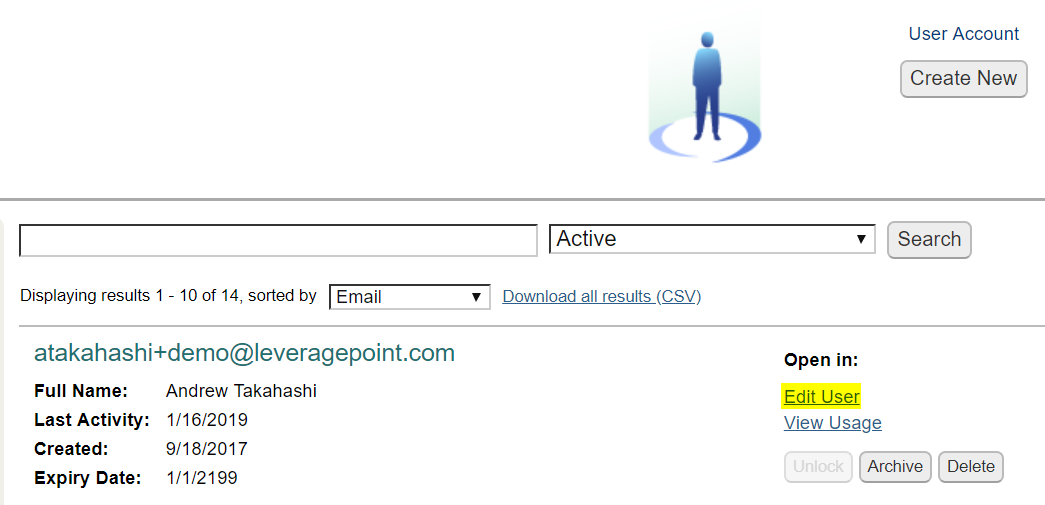 The Edit User module has four tabs. Opening Edit User will start you on the first tab, User Details.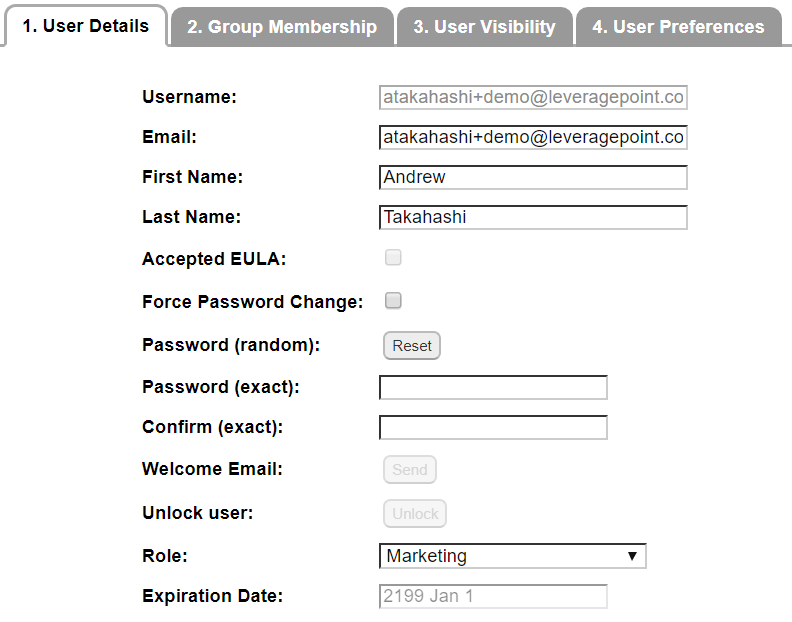 The fields for Email, First Name, Last Name, and Role have the same functionality as when adding a new user.
Force Password Change
Selecting this button will force the user to create a new password upon their next login. This button is selected by default whenever a welcome email is set and when a user's password is reset, either by themselves or by an administrator.
Password (random)
Click the Reset button to send a new, auto-generated password to the user in an email. Users can trigger the same email themselves using the "Forgot your password?" link on the log in page.
Password (exact) / Confirm (exact)
Manually set a custom password for a user by adding their password and then confirming it.
Welcome Email
This button will only be available if a welcome email was not sent when the user was created. If it is active, click "Send" to send the welcome email containing a link to LeveragePoint and a temporary password.
Unlock user
If a user has been locked out for too many failed password login attempts, the Unlock button will be enabled. Once you unlock a user, remember to reset their password.