Differentiation value is the net value that your offering provides. Namely, the sum of all the positive value drivers minus the sum of the negative value drivers. It's fair to say that the higher the differentiation value, the stronger your competitive positioning is with that customer. You can use the LeveragePoint Price Setting tool to model a price that captures a percent of the differentiation value.
The default modeled price on the differentiation value tab captures 50% of your offering's differential value, meaning your offering price is the same as your competitor's (if they have a price, zero if they don't or the competitor is status quo) plus 50% of the differentiated value.
To use the differentiation value go to the first tab within Price Setting, Modeled Price, and the third sub tab below the graph, Differentiation Value.
Note: The purple bar represents the modeled price using the selected method (in this case, differentiation value). If you have already set up an offering price, it will appears as a yellow bar to the right of your modeled price.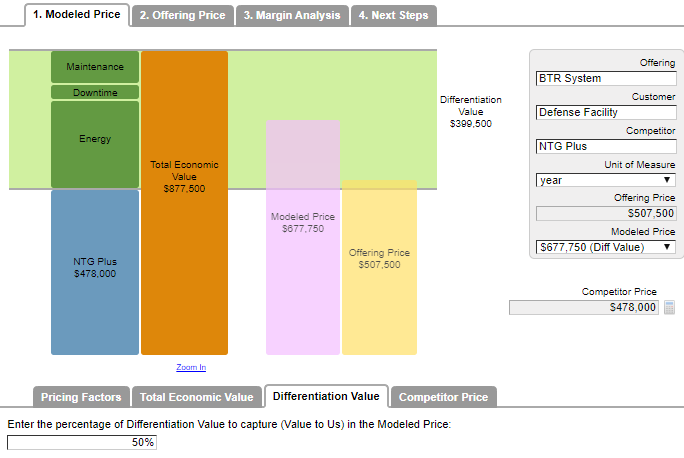 To adjust the modeled price using differentiation value, simply adjust the default value of 50% to whatever percent of the differentiation value that you'd like to capture. As you adjust the percent, the modeled price will change as well.